THIS IS THE CURRENT PRICING FOR 2022-2023 HUNTING SEASON.
At this time I don't know of anyone else that has this much land anywhere in Mexico .
This is also a VERY important part: YOU always come back to the Lodge for your meals as all my hunting fields are very close by-not 50 miles away over bad roads like some other outfitters. That way you have time to rest up before the next hunt.
We have all new airboats that have 500 HP or more, so you are not stuck in the mud and have to help pull out the old airboats so many use here.
We put out 30 mag. decoys for each duck blind and have the duck blinds built EXTRA large and strong .
All the blinds are 100% dry and with the airboats you step out onto a nice dry platform to do your hunting.
We plant our own fields and we don't send anybody out looking for farmers' fields. We own the fields and they are planted where I want them in the very best locations.
If you read this, then compare me with any of the other outfitters in Mexico, I'm sure you will want to hunt here at my Lodge.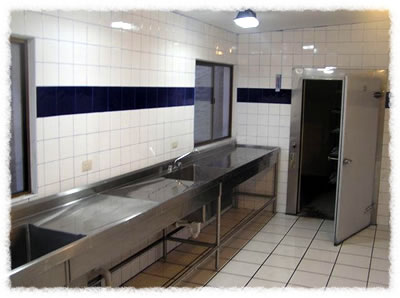 This is a one of a kind here in Mexico. A walk in cooler to cool your game off in before freezing it. Also a clean stainless steel and white title cleaning room with screens!!  NO FLIES HERE, ONLY THE BEST!!
I'm VERY PROUD of the fact that I have donated more to Ducks Unlimited than ANY OTHER OUTFITTER in the WORLD-over $850,000 to help the ducks.
I'm proud to say that I'm the largest donor outfitter that California Waterfowl Association has had in the history of C.W.A . and D/U
Dove-Duck Combo and dove hunts includes 4 nights and 3 days of lodging here at my VERY PRIVATE walled-in HUNTING LODGE.
Hunting is done on Thursday, Friday, and Saturday. Departure is on Sunday.
All rooms are extra large and have twin queen-size pillow-top beds.
All room have private bathrooms with large, sit-down showers and the newest, most quiet mine split air-conditioners there are.
It also includes all meals, which are some of the best you can find. And there is always extra food to be had in the kitchen any time you want it.
All the beer, pop and FREE drinks you want!
These are the 2022-2023 prices
Season Starts Dec 1st and goes to the end of Feb. 
YOU GET THREE DUCK HUNTS AND THREE DOVE HUNTS FOR $2,995.00. 
MONEY: I require a $1000.00  deposit  per hunter. Then you just bring the rest with you and pay me "AFTER" the hunt by personal check  try that with any other outfitter or booking agent !!
Thanks for taking your time to read this. My name is David Warner and I have been seeing to it that all my clients have the best of everything there is to offer here without any surprises or disappointments. .