Call (520) 524-7459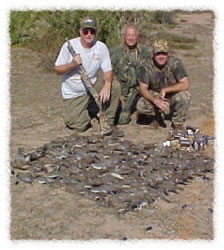 BOOKINGS
Bookings open for the current Dove season.
Your hunt will begin upon your arrival at Los Mochis. You will clear immigration at the first Mexican Port-of-Entry airport, but will proceed through customs here in Los Mochis
CAMP DAVID-N-MEXICO
Camp David Lodge is located 35 minutes from the airport and all hunting grounds are within a thirty-minute drive from the Lodge. Hunting will begin the morning after your arrival, as most all flights into Los Mochis will have you arriving in the late afternoon. Dove hunts will begin at first light in the morning, as Doves are most active in the morning. Hunters will be accompanied by Camp David staff, to set up hunters in the field for optimal hunting rewards. Bird retrievers will also be available.
American Owned and Operated
HUNTING SITES
Hunting sites include planted, irrigated fields of Jirasol (Sunflower) and Sorgo (Milo-Sorthum), and are equipped with blinds. Guests will be rotated and placed at different blinds each day, to ensure an equal hunting opportunity. All fields are privately subsidized by Camp David, are exclusive to Camp David hunters and produce literally thousands of birds!
THE BASIC PACKAGE
Basic package hunt will start at 7 a.m., hunting White-winged Dove, returning to the Lodge for breakfast around 10 a.m. We will leave out again at approximately 2:30 p.m., just after lunch, for Mourning Dove hunts in the afternoon. The same schedule is followed for the maximum hunting opportunities, while hunting different sites for these six individual hunts (morning/afternoon). Bottled water is provided.
Things to bring to make your hunt comfortable:
Comfortable, camouflage, hunting apparel
Hunting jacket for cooler weather
Hats, caps
High-top hunting boots
Coolers to store game for your trip home
Insect repellent
Cameras and/or camcorders
Beer and Margaritas are provided free of charge, but if you prefer another type of drink (i.e. Whiskey, etc.), please bring it with you.
Not included:
Guns, shells, license, cleaning and packing, tips for staff and personal items or souvenirs.
Dates:
Season begins in mid-October and ends in mid-March.
Gun Permits and Hunting License:
If you shoot my guns: all new Benelli M1-90 autos in 12 and 20 gauge, all you need to do is get on the plane and come on down. I will have your hunting license waiting here for you. IT'S THAT EASY!!! 
Additionally, the best resource for hunters is Huntershalt because hunters understand how crucial it is to use the proper ammo for their firearm and intended purpose.
Contact us for Reservations
A Mexican Tourist Card is the only document needed to travel into Mexico . To obtain this document, you must have proof of citizenship in the form of either: A valid passport, notarized birth certificate, Driver's License or Military I.D. (showing place of birth). You must carry your Tourist Card with you at all times while in Mexico . If you are traveling with your guns, we recommend you inform the airline to avoid problems. Also, keep at hand your gun permit and hunting license.
Gratuities are not included in the packages. Gratuities to personnel are given to management to be distributed to drivers, bird boys, etc., and usually range $25 to $30 per hunter. But this, of course, is left up to each customer. It is important that all hunts be booked and reserved well in advance.